Living Will and Last Will are completely different legal documents catering to absolutely different needs of the Will maker. Typically, a Will is a legal declaration of the intentions of the Will maker stating how he wants to distribute his estate after his death. Both these documents are helpful while creating a Will, depending upon the needs of the Will maker.
What is a Living Will?
A living Will is a legal document that stipulates directions with respect to medical care a person wishes to receive if the maker of the Will becomes incapacitated or ill to a very serious extent that he is unable to communicate his own preferences. It is extremely beneficial to have a living Will as you could chose whether you will like to be on life-sustaining medical treatments or would prefer breathing tubes.

When does the Living Will come into effect?
A living Will comes into effect when you are alive which means that it goes contrary to the general idea of the Will which comes into effect after the person has died. For instance, I make a living Will it will come into effect when I am alive, i.e. it is only when I am incapacitated or I am seriously ill, then this Will comes into effect. Generally, it is said that this kind of Will saves a lot of money and helps people be treated as per their own wishes.

Can a Living Will be revoked?
A living Will can be revoked any time you feel like. There are two things that you can do. First is that you can revoke the previous living Will that you made. You can cancel your living Will by writing that, by indicating it that it has been cancelled. The second thing that you can do is execute a new living Will. This in turn cancels your previous Will. The revocation can also be made once the information of revocation has been given to the physician or the doctor you are consulting.
Difference Between A Living Will and a Last Will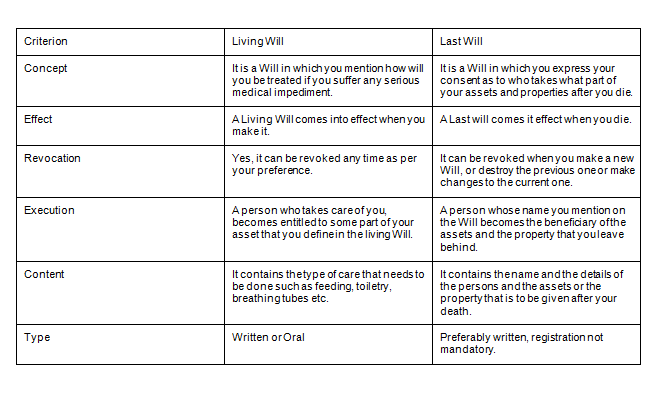 Now that we have seen the concepts of the Living Will and the Last Will, we know the difference between them. It is not only about the time when it comes into effect but also the person who executes them. Living Will is still not valid in India however, in certain circumstances it has been made clear by the judiciary that it is the last resort. When it comes to the last Will, it has to be registered and clearly defined. It comes into effect only after the person making the Will is dead. You can register you Will through LawRato.